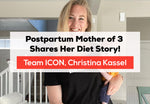 We recently celebrated our third child's first birthday and let me tell ya, pregnancy and postpartum with two older children that have school and activities and all the associated work for parents that comes along wi...
Derek Lunsford is an IFBB pro and Team ICON athlete. D...

How are you guys crushin' life and doing things big in 2023? Hopefully you're on a roll and things are working in your favor because you set up the plan, the blueprint. <...