ICON Meals Blog
April Imholte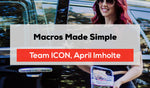 Do you ever hear the word "Macros" and nod your head like you know exactly what the other person is talking about when in reality, you have absolutely no clue? It wasn't t...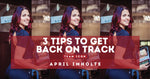 I get comments all the time from people as to why they "just can't" focus on their nutrition right now. Usually it's because they don't have the time, or they will start when they start working out🙃, after xy or z trip, when my kids are older, etc etc etc.

I get it. Making changes...